Who can use this feature?
Staff users only
With e-signatures, you can easily send requests and get documents signed from anywhere, at any time, on any device all within the security of Qwil. There is no additional application, it all happens within the same chat. 
Qwil Sign uses encryption and authentication measures to ensure that the signature is authentic, legal and adding a certificate to provide a full an audit trail. Learn more about e-signatures. 
Update: You can now create templates in minutes from any PDF or simply upload a PDF directly and we will add an extra signature page. Learn how to create a template. 
What to expect?
You can only create a signature request on desktop.
E-signatures are sent inside a chat within the context of a conversation. To send a request you must upload a PDF file and select a signer 
Create a templated PDF or send PDF file for signature. A templated PDF enables you to place Fields in any document so you can specify where the signature should be. Learn how to create a templated PDF. It only takes a few minutes and can easily be shared. 
You can only select one signer per document in addition to your signature if you decide to. Only chat participants will be able selected as signers. (external guests is coming soon). 
Your signature will be added to the document once the recipient has signed.
When the target signs the document a certificate page will be added at the end. In addition a signature ID will be added to all pages of the document. A new message with the completed signed document will be sent in the chat. 
Other chat participants can view the request (and preview the document) but cannot sign. They will also have access to the complete document. (this is similar to "Send a copy" option). 
A Butler notification will be sent to signer to remind of the action to be taken and to the requestor that the signature is pending. 
You can cancel a signature request while it is still pending. 
A dashboard providing a complete overview of requests will be released in Q4 2023. 
Send a signature request:
Open the chat where you wish to send a signature request.
 In the input box click on the signature icon. 


A modal will open. Select the PDF file where you will request a signature. You can send a templated PDF or a normal PDF. 

We recommend you create a templated PDF so you can specify where you want to add the signature and other Fields. A signature page will only be added automatically to PDF documents sent directly. 

You can drag and drop a file or click on the button to browse file. 




Select a signer. You can only select active chat participants. 
You can optionally add a caption to be sent along with your signature request. This can be used to inform the signer that a signature page will be added after they agree and sign. 
Click Next. In the next modal you can add your own signature to the document by checking the box below. 



Tip: You can change your signature font, draw or upload your signature by clicking on

Change style.

You can also save your edited signature as you default signature by checking the blue box after your changes.

Click Next. A preview will open. If you used a Template it will display where you placed your signature fields. Review everything displays correctly before sending it for signature.
Click Confirm and send. A new message will be sent to the chat with your signature request. 


If you sent a request by mistake, you can cancel it while it is still pending. 
Both the staff requesting the signature and the signer will receive butler reminders daily to take action. The status of all signature requests will also be made available in the Dashboard (Q4 2023 release)
Once completed by all parties, the signed templated PDF will be sent to all participants with all the details you required including a certificate page confirming its legal validity. If you have uploaded a normal PDF for signature, an extra Signature page will be added. 
Signed Document (using Templated PDF)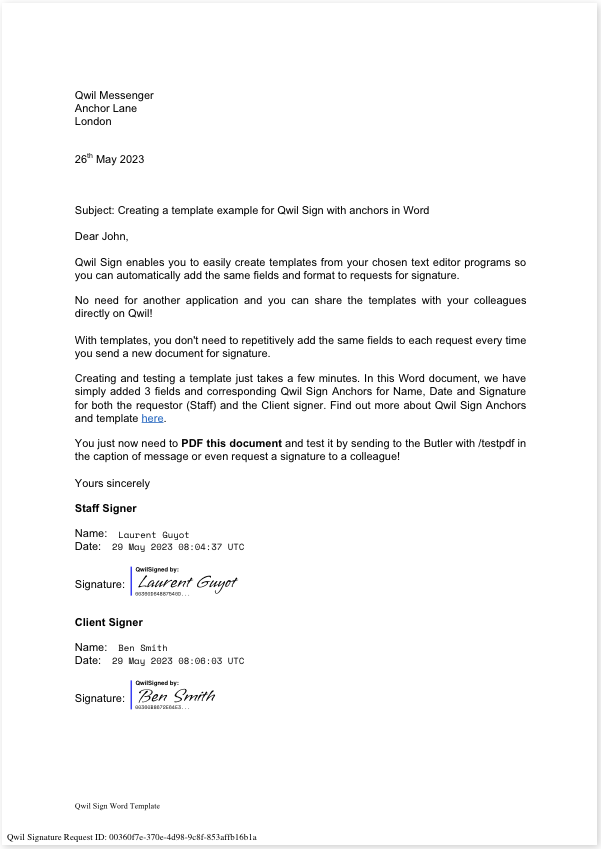 Certificate page
Signature page (for non templated PDF uploaded)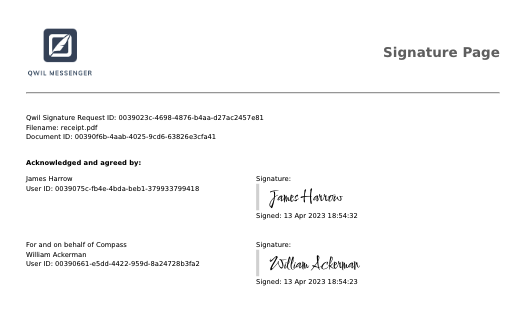 Cancel a signature request:
To cancel a signature request, click on the Cancel  button in the message
A modal will open. Confirm you wish to cancel the request.


The message and PDF file will be deleted. 
Next steps
Our help centre contains hundreds of articles and guides so that you can make the most of the platform. Below are a few extra links if you are interested in learning more. 
Create signature template (Qwil Sign anchors)