Using search makes it easier to find the right message, file, or chat when you need to. You can search all your chats, even if you left. Your search results will include active and archived chats.
Tip: find exact matches of your search terms by putting a word or phrase inside quotes.
You can search for:
Contacts
Chat title (current and previous)
Messages
Attachment name
Caption
To search your chats:
On web:
Click on the search icon above your chat list.
Start typing a search term.
In thesearch dropdown you will see suggested results for contacts and chats.
Press Enter to see message results that match your search parameters.


Tip: Find shared chats. On a contact's page, you can see a list of all the chats you share with them well as what documents they have shared with you.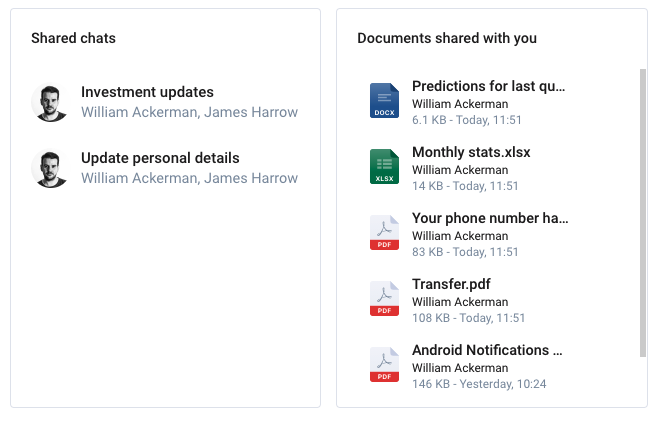 On mobile:
On the chat list screen tap on the search bar (iOS) or on the search icon (Android).
Type a search term and tap Search.
You can navigate your search results by tapping on each result. When you navigate to a search result you will see a preview of the chat. Simply tap on the scroll button or on the view conversation button to see the entire chat.
Matches will be highlighted as you navigate.
You can return to your search results by tapping on Back.