Who can use this feature?
All users
Update: If you receive the message, "kill" the app on the iphone and relaunch the application. Recent Apple IOS updates (15.6.1 onwards) have modified the use of the keychain on several applications requiring login details. We are releasing updates to solve the issue. Our apologies.
For security purposes, if your device is jailbroken or we detect malware on your mobile you will not be able to use the Qwil Messenger app.
This message may also appear if you are trying to install the Qwil Messenger mobile app on your Desktop from the appstore. Instead go to our download page.
"Jailbreaking" or "rooting" means removing safeguards from a phone, so a wider range of apps can be installed - including unofficial ones. When a device has been jailbroken or rooted, it makes it easier to install apps that haven't been properly screened for malware. This can leave the devices more vulnerable to fraudulent attacks. If we think we detect malware on your mobile, you'll also be prevented from using the app.
To keep our customers' personal information safe and secure, we don't allow jailbroken or rooted devices to be used to access the Qwil app. If that is your case you will see a screen like this: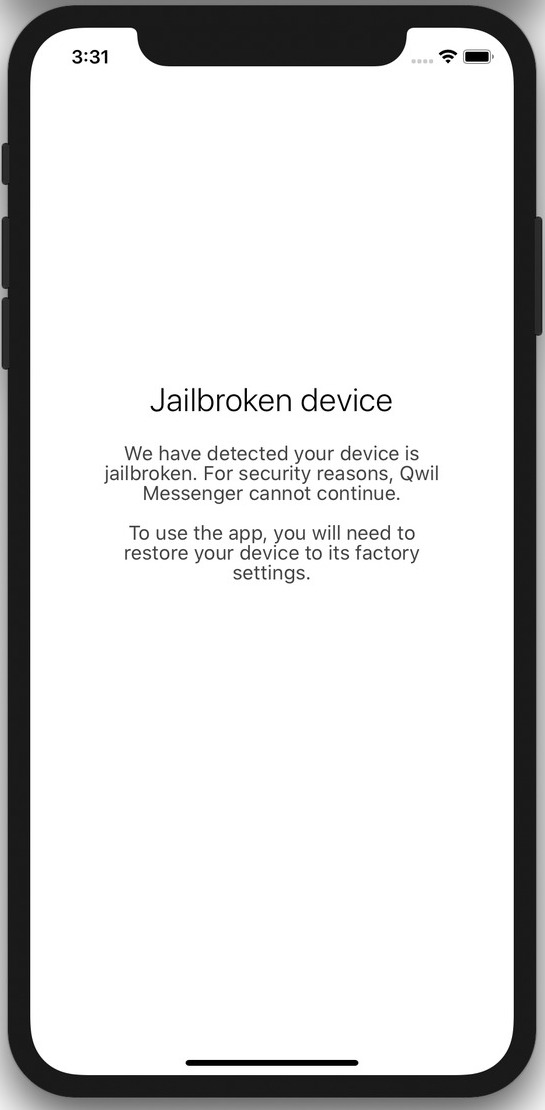 If you want to keep your device jailbroken /rooted, you can still use Qwil Messenger on your desktop computer. If in the future you decide to reset your phone to its original manufacturer settings, you should then be able to start using the app.
Please note that it is also possible that the manufacturer could have pre-installed applications that may have tampered with the normal security configuration of the operating system (this can notably happen with certain Android devices).