Who can use this feature?
System administrator
User administrator
Your organisation on Qwil Messenger is composed of two user types Staff and Clients with Contact Groups that are used to connect users to each other. You are the one creating the contact book on the phone so that your clients know who they can start a chat with.
Do refer to our Guide to onboarding your users to Qwil Messenger for further details on how to replicate your coverage model in Qwil and understand the relationship between staff, contact groups and clients.
Staff users are your internal users who provide services on behalf of your organisation. They automatically have access to each other and can search the directory but need to be in contact groups to see their colleagues on their contact list. This is like having a frequent contact list. department. You can put everyone in All staff contact group. Staff can only see a client contact if they are in a contact group with them to ensure privacy at all times.
Who can invite staff?
You need to be a User Administrator to do so (Understand roles and permissions) and have the administration tab in your browser side menu.
What to expect?
Once you've entered the details for the staff member (y

ou only need the name, email and mobile number)

, they will be receiving an email invite on a daily basis until accepted. Details on how to check the status and amend details here.
Once an invitation is accepted, the new staff member will be visible by all staff members and those in the Contact Groups in which they have been added.
If you prefer watching a video and learn everything there is to know in 25 minutes, click here.
Invite staff users:
From your desktop, click on the admin menu.
Click on Staff.
Click on Invite a colleague.
Select their role (see Understand roles and permissions for more details):
System administrator - has full access to all the organisation settings.
User administrator - has access to user and group management.
Staff - can only access chat functionalities.
Enter their First Name, Last Name and Job title.
Enter their email address and phone number.

Note: When entering a phone number make sure you add the country code (i.e. +44) The flag icon will display the country to confirm you have entered the number correctly. Do not manually change the flag icon as this will save an incorrect number or add again the international code to your number.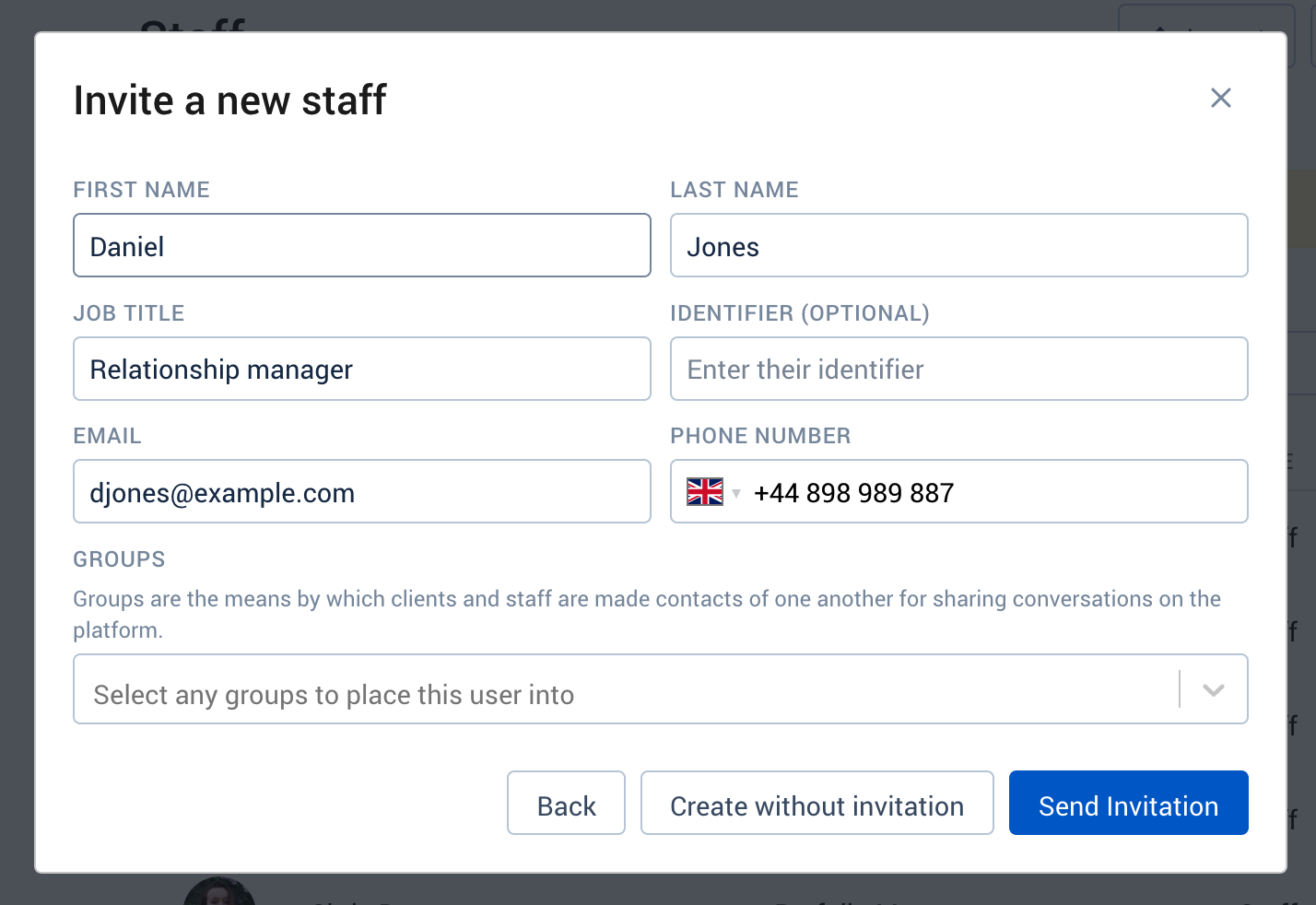 Select one or more contact groups (optional). The other members of this group will become the user's contacts.
Click Send invitation.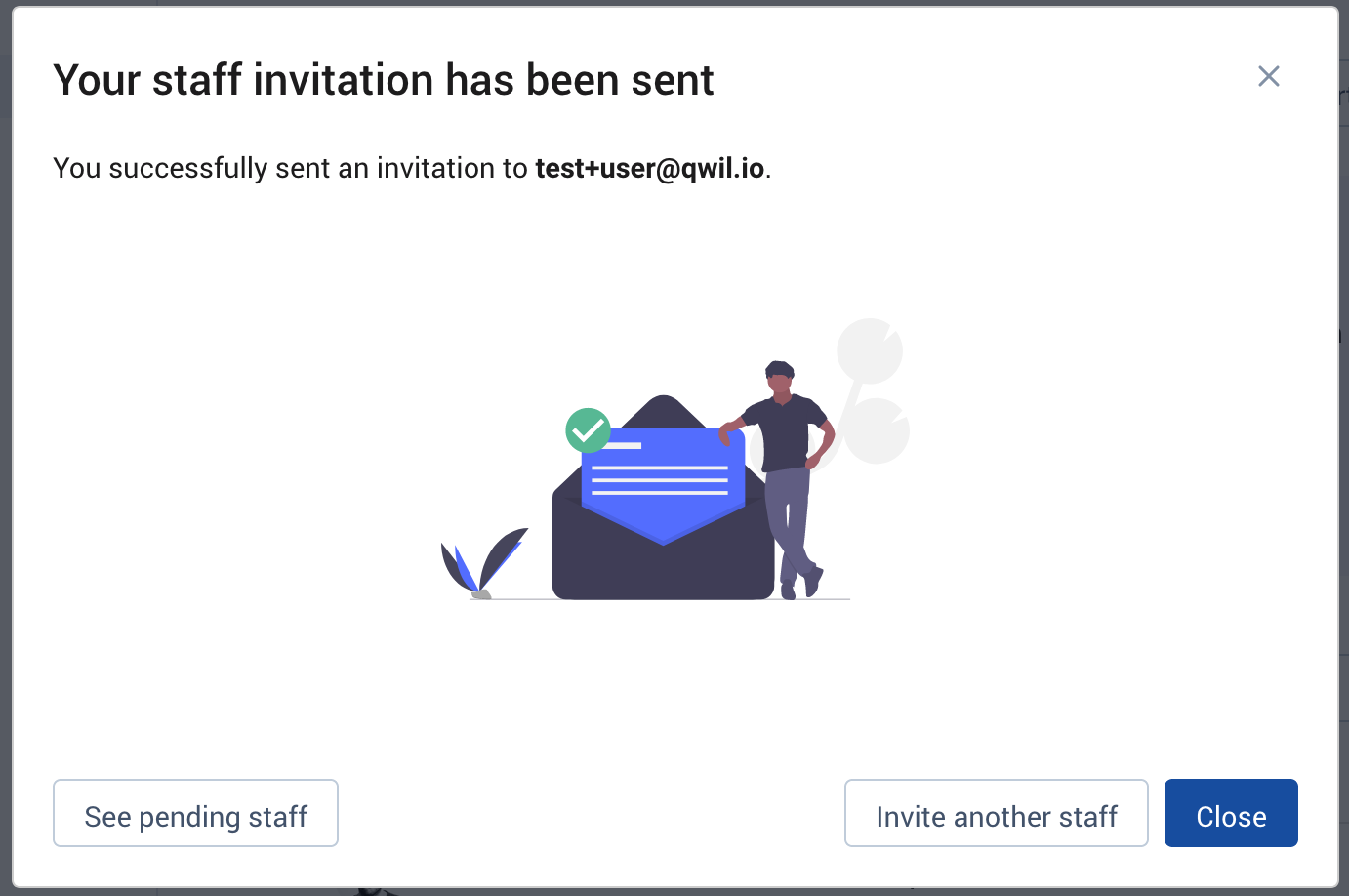 Tip: If you already filled in the form but want to change the invitee role, you can click back and select a different role.
Tip: You can review all your pending invitations by using the filter on your staff list, or by clicking on the yellow alert in your staff list.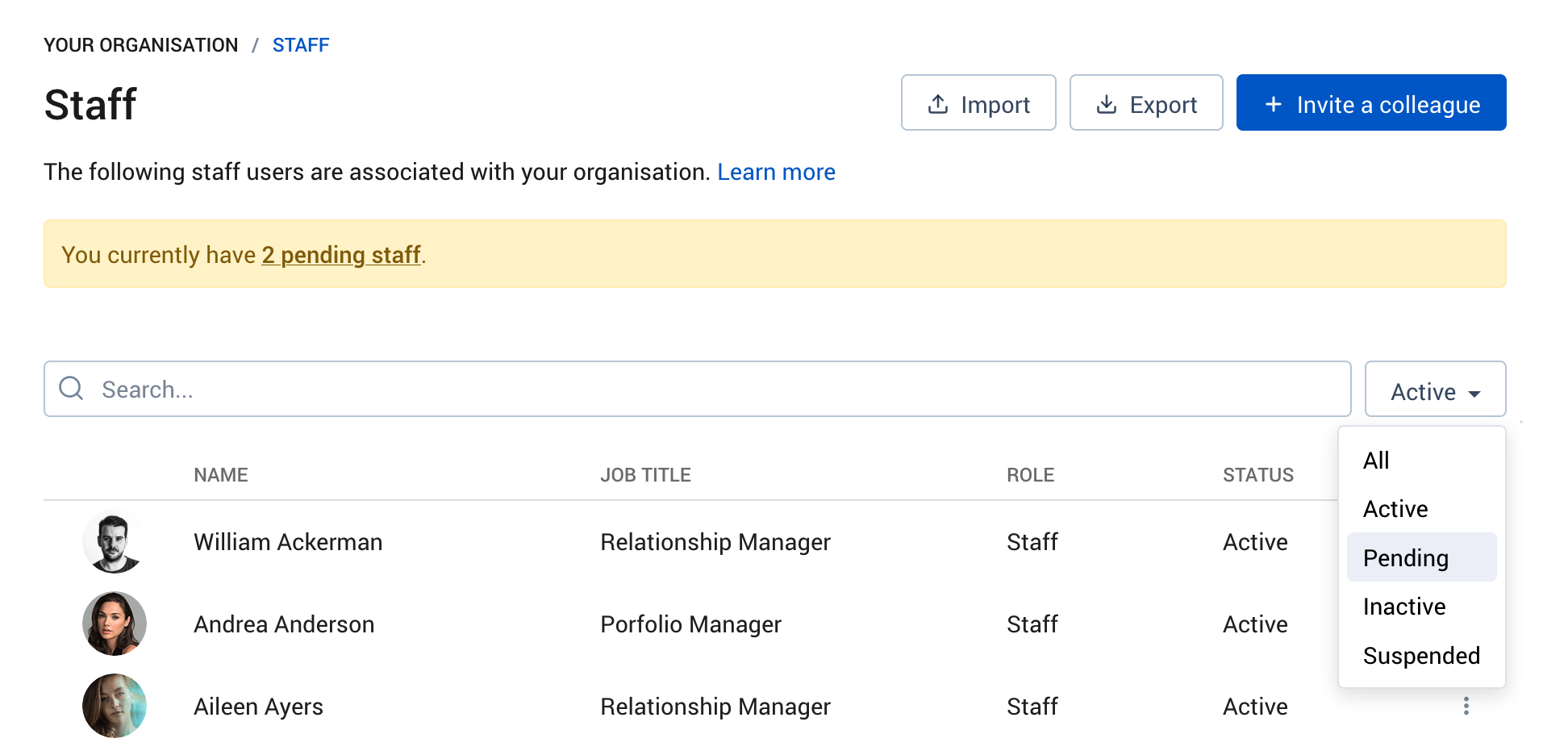 What is next?
We have shown above how you can manually invite a staff user. For smaller firms or first time users, it is often simplest approach to loading your data.
However, you have full flexibility and can invite all users manually or if you have an existing data base do it simply through the use of our Excel (CSV) template whether for a part (only staff for example) or for everyone. The import process for staff members is accessible here.
You are now ready for stage 2 and creating a contact group. Because of the way Qwil Messenger replicates your client relationships, you need to follow a specific order when adding groups and users: