Who can use this feature?
System & User administrators only
An invited user's account becomes active when they accept their invitation to join your organisation. If you've invited staff users, you will not be billed for invited members until they become active.
When you invite a user they will receive a daily email invitation reminder for an initial 30 days with a new link to accept it. Only the latest invitation link will be valid. Expired invites will be resent quarterly by the system for another 30 days until the client takes action or staff deactivates them.
To see your pending invitations go the Staff or Client menu and select Pending in the filter options. All pending users will be listed along with their invitation status.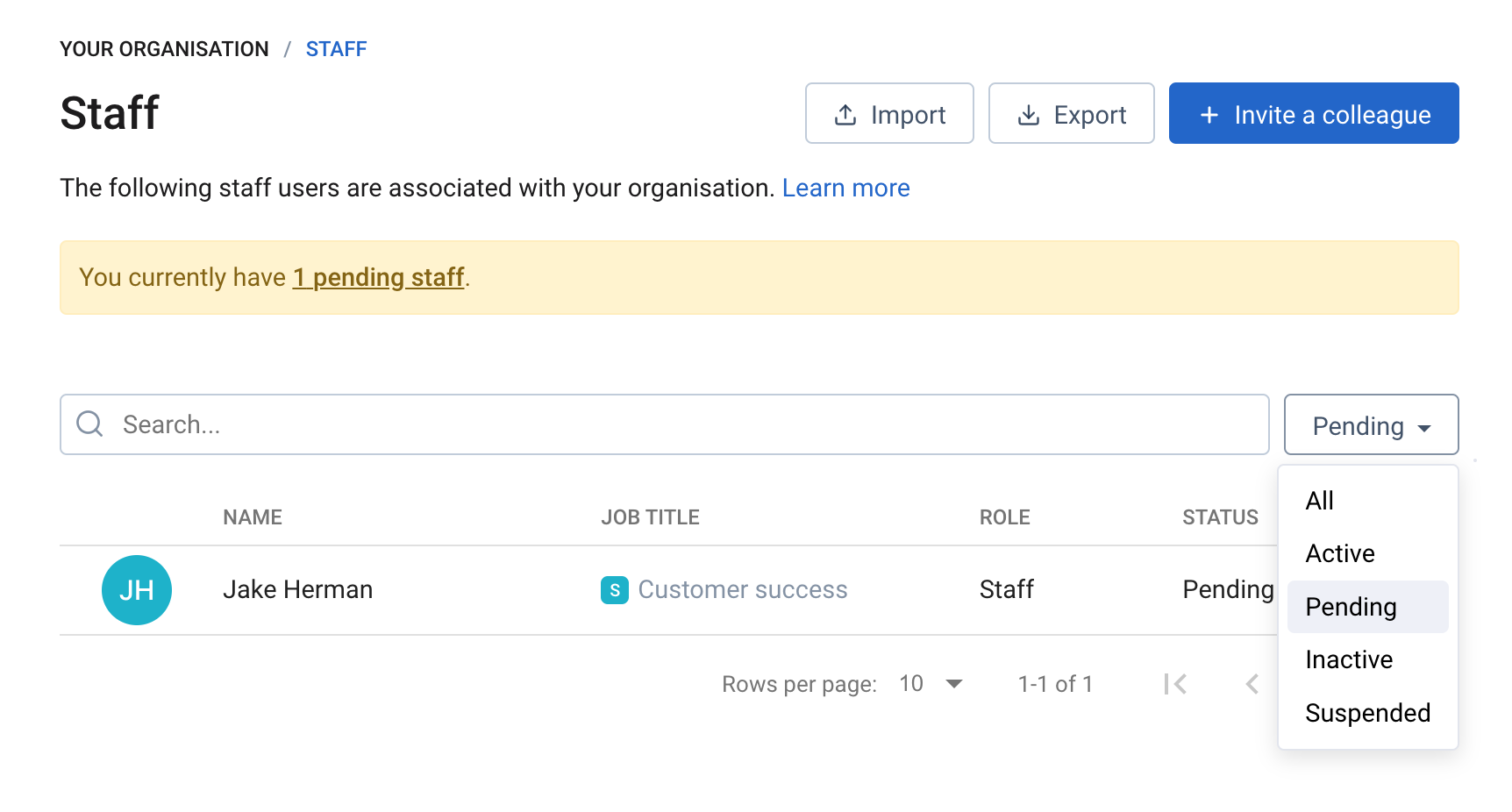 Note: You can also review your pending invitations by clicking on the yellow alert in your staff or client list.
There are 6 invitation status:
Pending: The invitation is still active but has not been accepted by the invited user.
Expired: The invitation has expired. To renew the invitation you must resend it.
Draft: The invitation was created but not sent.
Bounced: The invitation was not delivered. This probably means the email address you provided is invalid.
Failed: The user failed to accept the invitation (e.g. they entered too many incorrect SMS codes). To renew the invitation you must resend it.
Revoked invitation: The invitation was deleted before the user accepted it. If you wish to resend it, you must restore this user.
Refused: The user chose to refuse the invitation.
To resend an invitation:
From your desktop, click on the admin menu
Click on Clients or Staff.
Find the user you wish to resend the invitation to.
On the user page, you will see a button to Resend invitation on the top right corner



Click on it. A new invitation will be sent.
Note: you can also resend an invitation directly from the user list by clicking on the three-button menu and selecting Resend Invitation.

Note: Changing a pending user's email address will trigger a new invitation. See Edit a user for more details.