We can help make your organisation not only more secure, but more efficient. For that you need all your staff and clients to be able to communicate and share information on a common secure channel.
Below, we provide below a brief overview of how to make it happen and then you can choose how best to load up your users. 
Let's first explain what the relationship is between staff, clients, and contact books.
Replicating your coverage model in Qwil Messenger
Your organisation on Qwil Messenger is composed of users (2 user types: staff and clients) and contact books that are used to connect users to each other. You are the one creating the contact book on the phone so that your clients know who they can start a chat with. 
Staff users are your internal users who provide services on behalf of your organisation. They automatically have access to each other. They can only see a client contact if they are in a contact book with them.
Client users are the external users that you invite to use the system to be provided services from you. They must belong to at least one contact book to be added to the system. This contact book must also have at least one active Staff user in it. This means that the staff user must have accepted their invitation before the client records can be loaded.
A Contact Book is simply the relationship group, a collection of users that can see each other in their contact lists. Both staff and clients can belong to many contact books. In practice you will create at least one contact book per client or client relationship (e.g. husband and wife). Just like your coverage model, not all staff see all clients and not all clients can contact all staff.  This is key for privacy. 
This is of course just for the setup in the system. Once a user starts a chat (we call Chat Threads), anyone can add other users in their Contact Book to the conversation.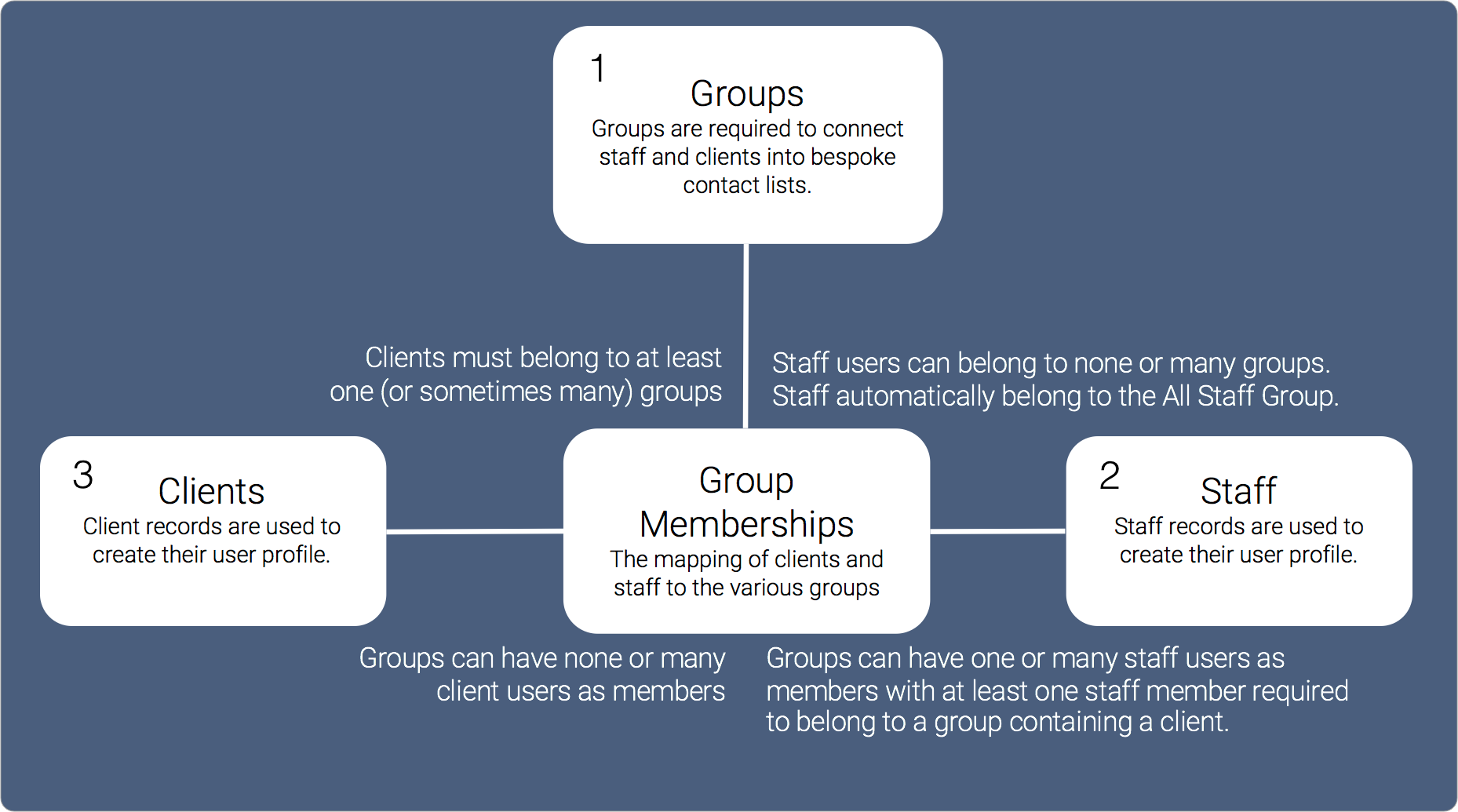 Let's get started: Invite or import all your staff and clients
Now that you have an appreciation for the different data elements and the relationship between them, it is time to invite your staff and clients. You need to be a "staff admin" to do so (Understand roles and permissions) and have the administration tab in your browser side menu.
You have full flexibility and can invite all users manually or if you have an existing data base do it simply through the use of our Excel (CSV) template whether for a part (only staff for example) or for everyone. 
The method is always the same, invite your staff, create a contact book and assign your staff and then invite a client. You only need the name, email and mobile number.
You can find out more about the process by going into those sections. 
Option 1 (manual): Invite your staff and clients directly from the administration tab
Option 2 (batch upload): Complete our excel templates and import to our system
Your organisation can take a step further. With over 40 APIs and integrations with other platforms, the whole onboarding process (and much more) can be initiated from your CRM, salesforce for example. 
A few extra tips
Here are a few examples of how our clients make the most of Qwil to enhance their coverage model:
Get your prospect from the first meeting. Chat is a powerful tool to create relationships fast. Here you not only have security to share documents to onboard them but also full consent from the start. 
Send an email just before rolling out Qwil. This ensures everyone is clear on the benefits of using Qwil Messenger and what they can expect, so they accept your invitation (e.g. making communication safer and more convenient).
Dynamically update your Contact Books. If a staff goes on holiday, it is easy to add a replacement staff ensuring clients can always reach someone if they need to.
Tell your staff that Qwil is to replace email internally and externally as it is not only inefficient but at high risk of fraud. Chat has replaced email in our personal lives, it is time for it to happen professionally. It is intuitive for older generations too (and they love the desktop app).