Qwil Messenger is built to ensure compliance with GDPR and data privacy regulations globally - with hosting in the location required, full ownership and active consent. With heavy fines for non-compliance, it is key that firms control client data through dedicated and designed for purpose solutions.
The General Data Protection Regulations (GDPR) Legal Requirements: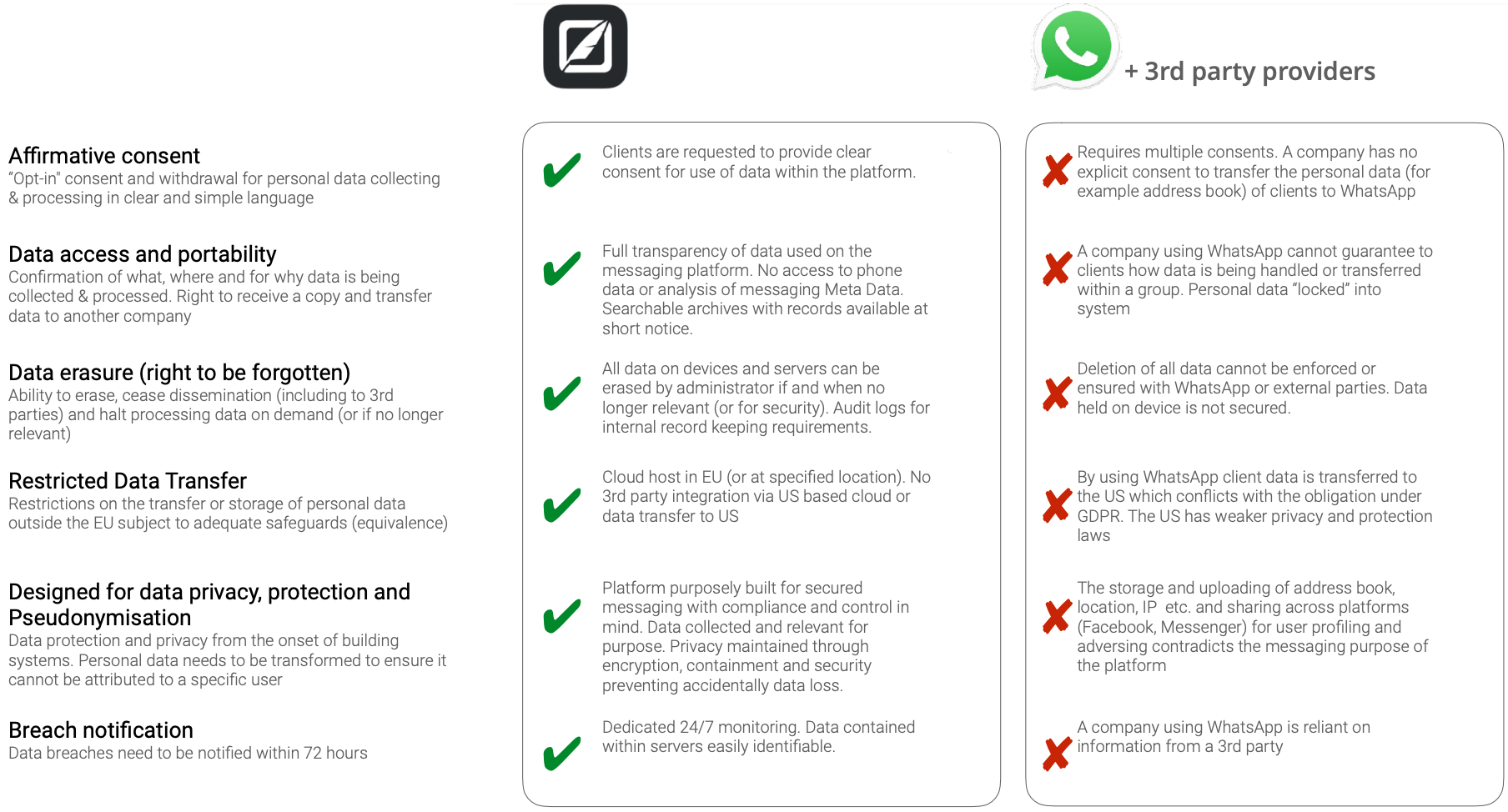 The law affects all enterprises that process and hold the personal data of users residing in the EU.
Companies are accountable and made responsible for the compliance of the data protection principles.
The penalties and reputational damage of non-compliance are substantial - with the maximum of €20m or 4% of annual turnover for breach of consent and data privacy.
Qwil Messenger's simple tools to support e-surveillance activities...
All chats are tracked, recorded and reviewable. At any time, authorised chat auditors can search for and review chat information via the web app. This not only includes the full chat details but a full audit history of all system actions including read receipt for each message sent and participant. This also includes if an attachment sent has been downloaded by a user. Searching and integration is enabled by user records having their organisational identifiers attached. All data can be extracted by API.
supported by robust access controls...
Qwil is engineered from the ground up to support confidential and private, co-ordinated chats between clients and representatives. Users only have access to the features and functions they are entitled to, and must be explicitly authorised by an administrator at the organisation. Access to engage clients requires explicit group membership rights, and only trusted staff are therefore authorised to flexibly facilitate conversations as and when appropriate. Every write action performed by a user is audited as well as the read status of every message for each participant (a non-optional setting).
Currently we support five mutually exclusive user role profiles that contain only relevant permissions, and one optional staff permission.
System Administrators

The system administrator is one of the three internal user role profiles, and is the one that provides the highest level of permissions that can be granted at a Qwil customer organisation. Users with this role profile can both administer the settings of the system, as well as manage user access and participate in chats. Every customer organisation must have at least one system administrator active at all times. However, it is recommended that this access is tightly controlled by IT departments or platform owner teams given the access this role profile provides.

User Administrators

The User administrator is one of the three internal user role profiles. Users with this role profile can both manage user access and participate in chats. Whist user administrators can fully administer clients and partners, they can only create and manage the account status and details of other staff users who are not system administrators (i.e. other staff administrators or staff). This includes re-sending invitations and deactivating these users.

Staff

The staff user is the typical role profile assigned to internal users who need to chat with their colleagues and their prospects, clients and partners who are not employees of the firm. Staff users cannot administer access or contact list assignment (via group memberships), but they have additional chat permissions over and above clients and partners. These include the ability to automatically see and be able to search for other staff users to add as participants to chat, as well as the ability to remove other participants from chats.

Client/Partner

The client/partner user is the typical role profile assigned to external users who need to chat with your employees and other members of their relationship. Client user can access both the mobile and web apps to chat, but they do not have the additional chat permissions available to staff. However, unlike staff, clients do not have specific restrictions applied to their use of the web apps in terms of location (unless a multi-tenant staff user also) or moving data in and out of the mobile app.

Data Reviewer (optional staff permission)

Any of the staff user profiles, can have the additional Data Review permission assigned. This allows these staff users to search and review ANY chat undertaken in the organisation. This permission can only be added by a System Administrator at the organisation.

Qwil Administrators

The Qwil Administrator is an internal user that has access to administer the running of the overall platform for the various customer organisations that use the service. It is highly restricted access and requires VPN access in addition to the credentials.
and rules to support confidential conversations…
In addition to these permissions, a core Qwil Messenger product features is to allow organisations to preserve confidentiality and replicate their client engagement models within the chat channel.
Bespoke contact lists
Qwil Messenger enables you to create bespoke contact lists for your clients and their representatives that replicate your coverage teams and engagement model.
Chat participation rules
Our chat participation rules allows representatives to confidentially co-ordinate chats across your organisation as and when required, and in a highly efficient way.
supporting local data hosting to meet almost any requirement…
We have developed a significant body of intellectual property related to our complex architecture and cloud deployment technologies to support a global, multi-tenant platform that is both vertically and horizontally scaled. This includes the methods and techniques to make a highly available and resilient, distributed chat service safe and compliant for businesses in any jurisdiction.