Qwil Messenger is proud to be an ISV partner of Salesforce. Customers can download our Qwil Messenger Salesforce Connector from the Salesforce AppExchange to seamlessly manage chats with their clients directly from Salesforce.
What to expect?
Create and manage your client profiles and their access at your Qwil Messenger organisation from within Salesforce.

Manage access between clients and your staff/teams to ensure frictionless, direct chat access to the right people for your clients.

Create chats from within Salesforce and have one-click access to your existing chats. Have direct access to chat transcripts and the associated attachments.


Chats are automatically available within Salesforce against a client's record. Your teams no longer have to remember to log each and every chat manually. Instantly see a full view of the chat engagement across your organisation.
Qwil Messenger Salesforce Connector in action
Create
Generate branded client invitations directly from within Salesforce.
Manage
Manage access between clients and staff/teams.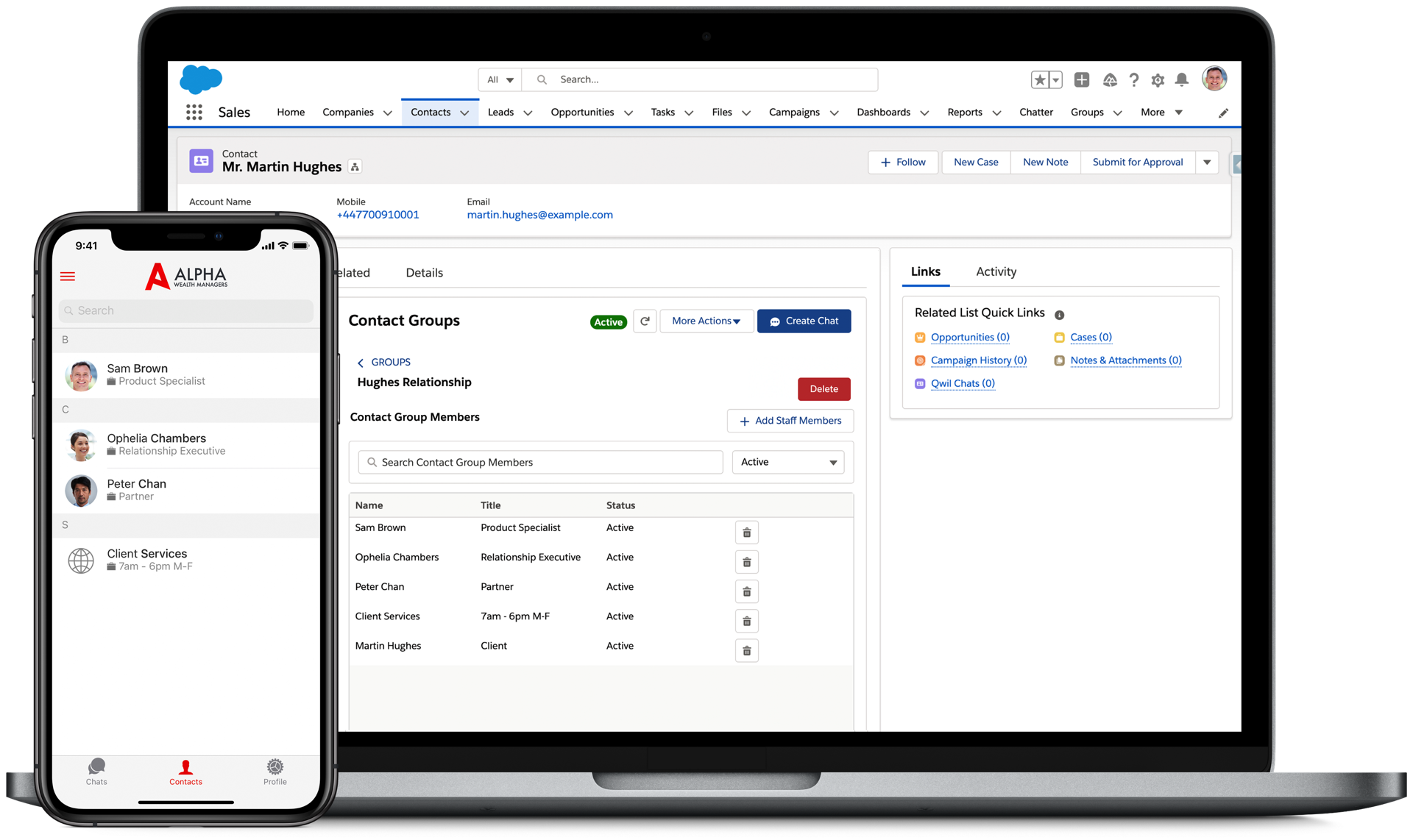 Engage
Create chats and share documents from Salesforce.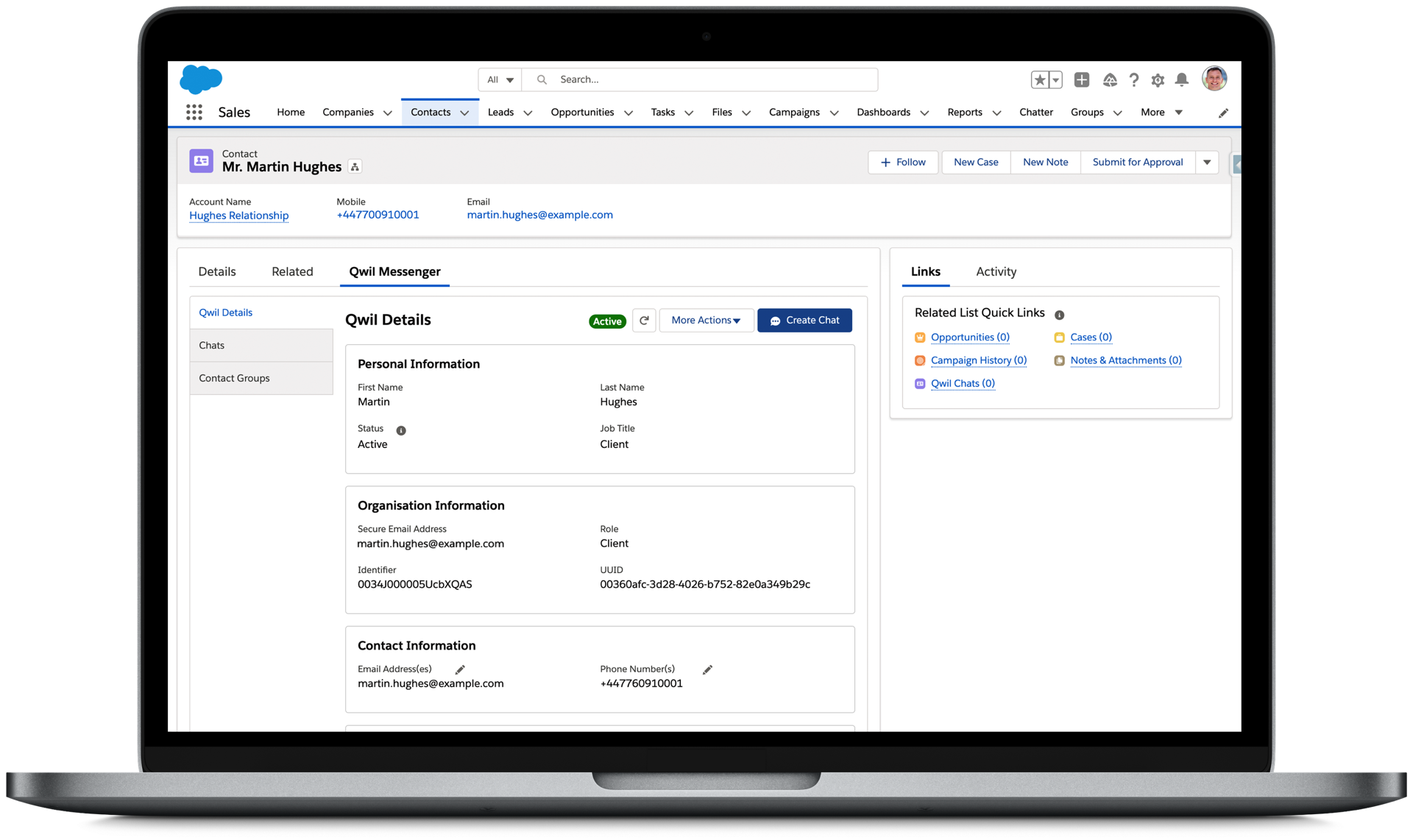 Review
Automatically review chats in Salesforce (manual logging by staff not required).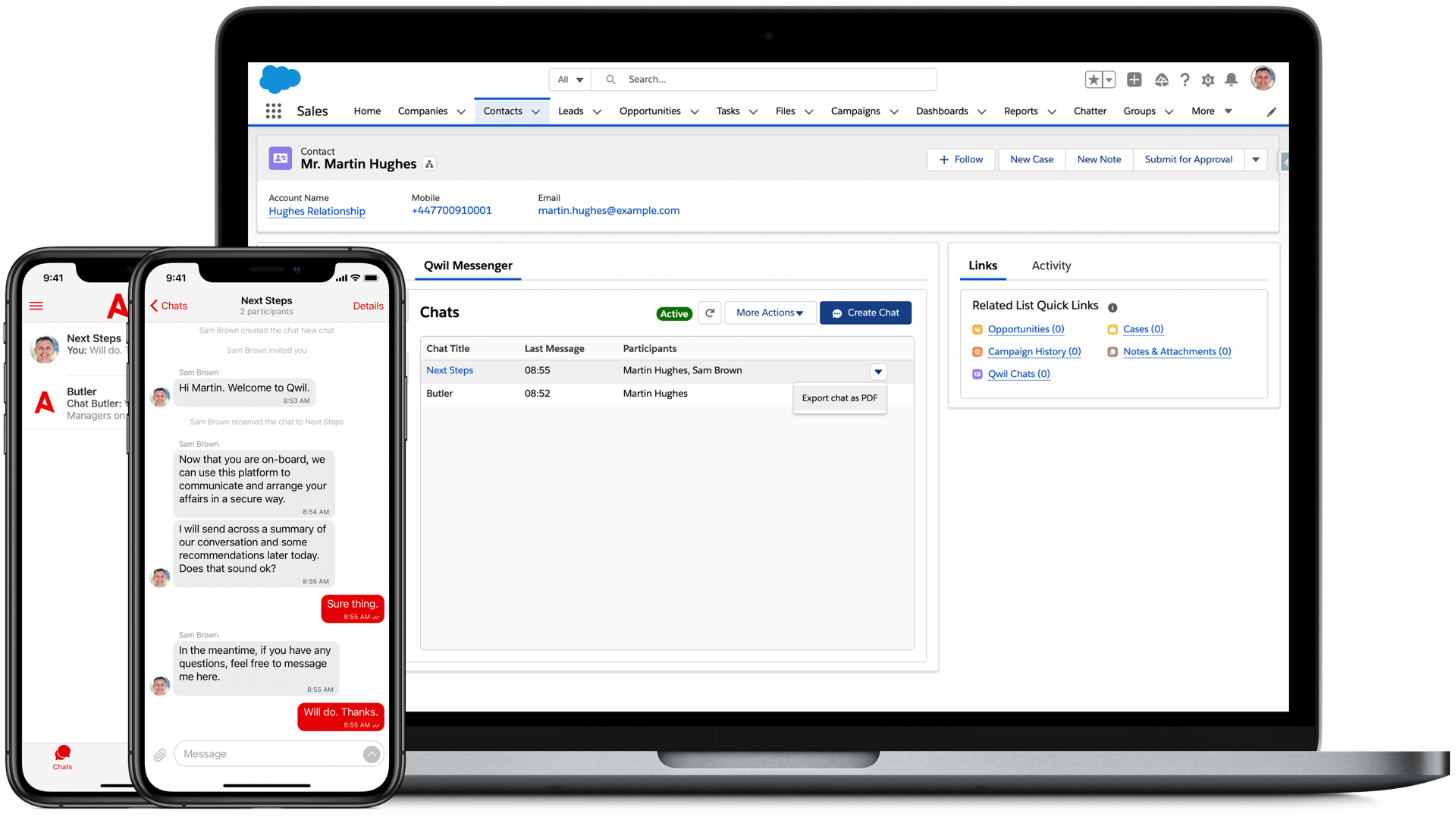 How it works?
The connector extends the functionality of Qwil Messenger to allow your front-line staff to perform a number of core use cases directly from within Salesforce. Record-level data access permissions (managed using visibility rules in Salesforce) govern the usage of the organisation administrator functions for each of the client records staff have access to in Salesforce. However, the staff users do not require any additional elevated permissions in Qwil Messenger other than the basic Staff role.
In this way, data mastered in Salesforce is leveraged to create a client's Qwil Messenger profile. Additionally, visibility of the client's chat across the organisation are exposed based upon this same access control model and are conveniently available alongside all other client information within Salesforce.
The connector has been designed in such a way that minimal setup and maintenance of data is required. In fact, the connector works by using primary key data mapped from the client record in Salesforce to then dynamically retrieve and display the linked Qwil data natively in the Lighting User Interface.
Data from Qwil is not physically stored in Salesforce. Data is only populated from Salesforce to Qwil Messenger when a client user record is created. Otherwise, the actions taken on the Qwil screens in the Salesforce user interface are transactions being performed directly on the underlying Qwil records from the Salesforce user interface (e.g maintaining group membership, suspending a user record). This means that there is no ongoing synchronisation of the standing data mastered in each platform.
Access to underlying Qwil records and transcripts and attachments are provided via deep links into Qwil Messenger. This requires authentication of the user via the Qwil Messenger web/desktop interface. However, these operate in a seamless manner when cookies are used to remember the login of the user on the device.
Not using Salesforce?
Not a problem. The detailed technical designs behind this integration can be replicated on other platforms easily. Ask your platform provider...they may already be working on a solution!
What next?
Qwil Messenger Salesforce Connector: Installation and Setup Guide