Who can use this feature?
System administrator
User administrator
You've invited a few clients already manually? Great. Now let's show you how you can easily upload everyone by just showing you a few screenshots.
For more explanation and detailed step by step guides, do read our Guide to onboarding your users to Qwil Messenger.
What to expect?
2 (3 if you are also doing staff members) simple excel templates to populate in the same way as you are inviting manually. This is not complicated and will save you a lot of time!
Upload each CSV template and all users will receive invitations in one go
Make sure you create the contact groups first before uploading the clients
Download the Excel (CSV) template
As an admin user, navigate to the administration menu and click on Staff, Contact Groups or Clients to download the 3 templates. Use the images below to help you with the data and format.

Click on the Import button and Download an empty CSV template. (we show below the Import Staff as an example)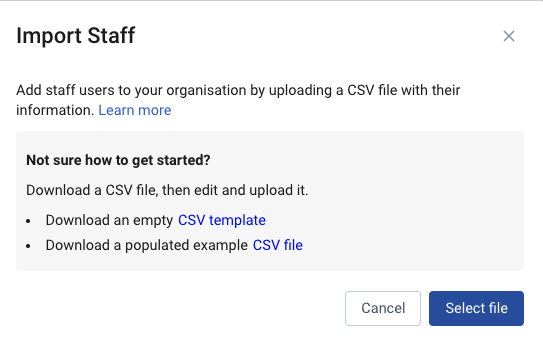 Populate the Excel (CSV) templates
Staff template CSV completed below (ignore if you have loaded all your staff already):

Contact groups CSV completed example below:

Clients CSV completed example below:

Import each Excel CSV to Qwil Messenger
You can complete as many files as you want (maximum clients is 500 each time)
Select the file and import under Staff, Contacts Groups or Clients
Contact groups will be created or invitations will be sent.