The Qwil Messenger Salesforce Connector allows your staff users to:
directly manage their client's access to Qwil Messenger and to control which staff/teams they can chat to; and
easily locate and review chats with your clients that are automatically made available on the client record in Salesforce (no manual logging required).
Getting Access
The functionality of the connector is available via a "Qwil Messenger" tab on the your client's Salesforce record. Within the Page Tab there are 3 side menus: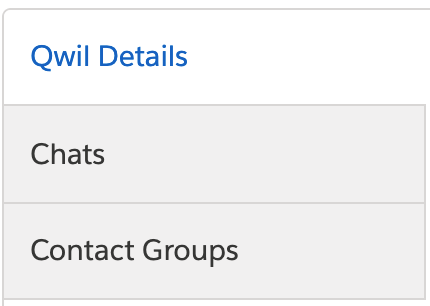 Qwil Details: This tab contains the information of the Client's user record in Qwil. It also shows the detailed status of their account.
Chats: This tab allows you to access the chats where the client is a participant.
Contact Groups: This tab allow you to administer the group memberships for your client which in turn, determines their address book contents on Qwil.
Important – To be able to use the Qwil Messenger Salesforce connector, you must be an active staff user of both Salesforce and Qwil Messenger. If you are not, you will be presented with an error message when you click on the tab.